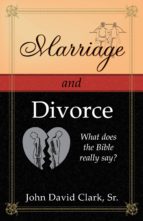 eBook
Estilo de vida, deporte y ocio
Marriage & Divorce: What does the Bible really say?
Autor: John D. Clark Sr.
Editorial: BookBaby
Formato: eBook
Protección digital: DRM
Formato: EPUB - Publicación Electrónica
$6.900
---
There are few areas of life where more harm has been inflicted on hurting souls by ministers themselves than in the turbulent and delicate area of marriage, divorce, and remarriage. I have seen hearts broken and homes divided by the misguided counsel of religious leaders – well-meaning men and women, certainly, but without the knowledge of God. "The wisdom that is from above", wrote James, "is first pure, then peaceable, gentle, and easy to be entreated, full of mercy and good fruits, without partiality, and without hypocrisy." The truth about God's will concerning marriage and divorce will bring peace and other good fruits into the lives of those who receive it, and that is the true measure of all teachings that really come from God. Within the community of believers, there are two basic groups, as regards marital status. They are as follows: 1. The Unmarried A. Those who have never married. B. Widows and Widowers. C. Those divorced before their conversion. 2. The Married A. Those married to another believer B. Those married to an unbeliever. C. Separation and Divorce. Before giving counsel to anyone, the wise pastor will first determine to which group and subgroup the person being counseled belongs because the counsel of God differs for each group. The commandments of God are always directed toward specific individuals or groups. If, for example, someone in Israel had assumed that God's commandment to make incense for the altar was for everyone, they would have lost their lives (Ex. 30:22-38). That commandment was for the priests alone, and not even all of them. Other commandments were only for Israel's judges; others, for every Israelite. It is of first importance, when considering the application of any of the commandments of God, to ascertain to whom God is speaking. Failure to do so could result in tragic consequences, as we have often seen in the misapplication of commandments related to marriage and divorce.
---
---